Before placing an order, all needed information to be fully confident
1.1 Before confirming an order, i'd like to precise a few things with the customer service
To help us answer all your questions, please :
Register your client account
Add all products needed in your basket (and then you stop)
Send an email to info@equi-clic.com with your questions. As a consequence, we'll access to your basket and be able to answer accurately
1.2 I do have 2 vouchers but it is not working, what is going on ?
Unfortunately, you can't use 2 vouchers simultenaously. You'll have a second one for later, the expiracy date can be extended.
1.3 Do you ship abroad ?
Please have a look to https://equi-clic.com/gb/content/1-delivery-options-and-returns
1.4 I've registered an order, when whill I receive it ?
The delivery date has been notified to you several times during the buying process and via the order confirmation email. If this email has been accidentally thrown away, you can find the information on your customer account or send us an email : info@equi-clic.com
As a reminder, a colour system helps to understand which product is in stock and which is not.
• text in green: the product is waiting for you at our warehouse.



• Text in orange: the product needs restocking and "Shipped within x to x days" indicates the time we need to get the product.

How is the delivery date determined ? :
Shipping time (24 to 48 h) : verify the order (product, address,...) + prepare the order + have the parcel picked by the carrier.
Delivery time depends on the carrier you picked up.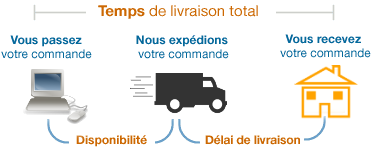 1.5 Wy should I register a client account on Equi-Clic ?
To be part of Team Equi-Clic and get points to transform into vouchers.
Other advantages :
You do your shopping more easily and quicker as you are already known.
It allows you to have a complete control over your orders and personal data.
1.6 How much is the shipping cost ?
Please have a look to : https://equi-clic.com/fr/content/1-livraison-et-retour

1.7 Help, I can't find anymore the product I spotted on your website earlier
Equi-Clic's website is linked to many brands' websites we represent. Advantages, daily update of our website. As a consequence, some products can run out of stock.

· Availability date is posted when the product is temporarily out of stock.
· Display « unavailable », you can't add the product anymore to your cart. Return date is not known or quite long.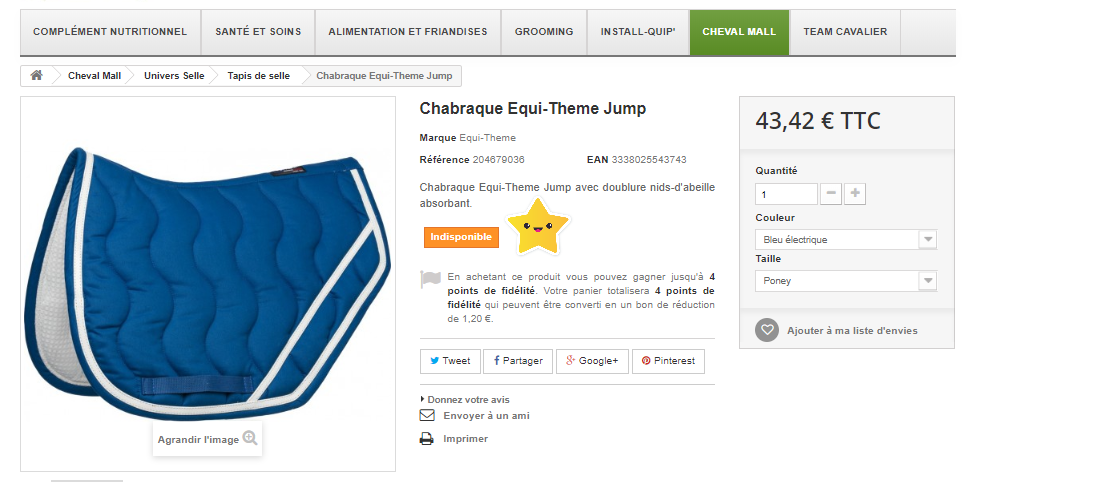 · A product can disappear from our website. The product won't be manufactured anymore or it won't return before a long, long time.

1.8 When will my order be shipped/How long will it take for my item to arrive? ?
Text in green, the product is in stock = shipping will takes place within the next 24 hours. Text in orange, we need to restock the product and it will be "shipped within x to x days". Look for the stars and you'll know where to find the information.

If you have any doubt, please send an email to info@equi-clic.com
1.9 Why was my payment declined ?
If you've had a debit or check card payment declined and you have enough money in your account to cover the payment, there are four conditions that can prevent your payment from going through:
The payment amount exceeds your daily spending limit.
The payment is larger than the maximum transaction allowed for your account.
Your debit card has been locked by your issuing institution. This often happens when you enter an incorrect PIN at an ATM more than a few times.
The charge is larger than what you usually would put on your card.

The solution to any of the above problems is to contact your payment card's issuing institution and ask them to adjust your daily spending limit, maximum transaction size or to unlock your card. Most payment card issuers can make these changes and have them take effect immediately allowing you to complete your payment.